Smart Speaker Black Friday 2019 Deals from Sonos, Apple, Google, and Echo
3D Insider is ad supported and earns money from clicks and other ways.
The smart home is the hottest technological topic of 2019. You need a hub to control it, though, and no hub is a more elegant or practical solution than a smart speaker. These gadgets not only orchestrate the interplay between your other smart devices; they also heighten the mood by playing your favorite tunes in style. Seize the Black Friday savings bonanza and get a smart speaker of your own at bargain rates.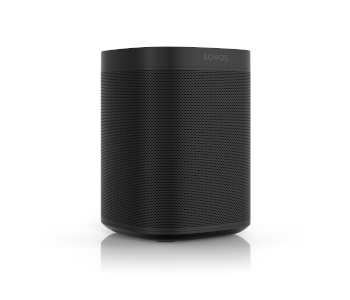 Sonos One (Gen 1)
Original Price: $199
Black Friday Price: $149
Why choose between smarts and sound quality when you can have both at a great Black Friday price? The Sonos One is a smart speaker that consistently delivers audio quality on par with or better than the HomePod. It also supports both Amazon Alexa and the Google Assistant with Siri integration planned for the future.
The Sonos One is easy to set up. You download the Sonos and Alexa app, perform sound tests to calibrate it to a room, and that's it. The speaker reproduces any genre of music with admirable fidelity. Nuances are easy to pick up, whether it's a simple pop song or a demanding instrumental piece. Is the One not loud enough? Connect it to other Sonos speakers and enjoy multi-room musical greatness.
Both supported voice assistants work flawlessly. You can use Google Assistant's superior search algorithms or Alexa's enormous skill base to find out anything or control dozens of smart devices with your voice.
Sonos One is evolving. Spotify support was integrated a few months after launch, and Goggle Assistant followed after that. The company continues to update both the speaker's firmware and the app, ensuring that there's a bright future ahead of the Sonos One.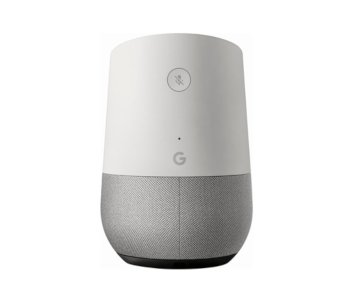 Google Home
Original Price: $99.99
Black Friday Price: $79.99
The Home speaker is Google's answer to the Amazon Echo, an answer that's been getting louder and clearer as time passes. It might not be compatible with as many devices yet, but the Google Home family is steadily growing. Why pick it up over an Echo then? Because Google's speaker looks cooler, sounds better than old Echo versions, and has a better AI assistant.
The speaker looks like a white air freshener with a slanted top. While you can't change the top color, bases in different designs are sold separately. You control the Home by swiping in cardinal directions or asking the Google Assistant for help. Google lets you mute the assistant entirely, ensuring your privacy.
The speaker's sound performance is adequate. It will do to fill a mid-sized room with punchy music and is more than good enough for listening to podcasts and traffic reports. You can even connect multiple Google Home speakers into a stereo system or stream video clips if you hook them up to a compatible TV.
Google Assistant is the chief reason why you'll want t to get the Home speaker. She's unmatched when it comes to producing accurate and quick search results on everything from general knowledge to local restaurant recommendations. You can ask the assistant follow-up questions, and she'll understand them from the context.
There is also a multitude of smart devices you can control verbally through Google Home. They may be activated either one by one or incorporated into an elaborate routine. You can turn on some music, lift the blinds, and enable a smart plug that powers your coffee maker, all with a few command words.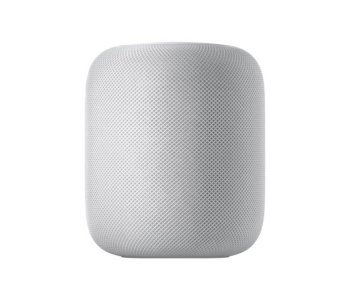 Apple HomePod
Original Price: $299.99
Black Friday Price: $199.99
Are you an Apple user deeply integrated into the company's ecosystem? If so, the HomePod should be your smart speaker of choice. It has the best sound quality by far, so you're getting a smart home hub and a powerful addition to your sound setup. The speaker is more limited than others since apple enforces rigorous requirements for compatible smart products. However, what it can do, the HomePod does brilliantly.
You control the HomePod either with an intuitive series of buttons and taps or through Siri. The audio quality is exceptional as the speaker packs a powerful subwoofer and seven tweeters. It utilizes a sophisticated chip that calculates the size of a room and the HomePod's position in it. The result is vibrant music that fills the entire space and eliminates echoes. The only downside is that it works directly with Apple Music, while services lie Pandora or Spotify have to be streamed from another iDevice.
Siri is a capable voice assistant that hears your commands even if the speaker is on full blast. She has a knack for quickly finding music, setting up reminders, and creating countdowns. Siri interacts with whichever Apple device is nearest to the speaker and syncs them so that you never miss an appointment. She's also useful for controlling HomeKit enabled smart devices.
Other notable smart speaker deals: