6 Best Smartwatches Under $150
3D Insider is ad supported and earns money from clicks, commissions from sales, and other ways.
Do you want to stay connected on the go, but are not willing to spend too much on wearable technology? A smartwatch under $150 could be the right solution for you. Smartwatches have come a long way, and today you can find affordable models that offer many of the same perks of their more expensive counterparts. Whether you are looking for something to help you with your fitness goals or a fashionable accessory, there's a model out there for every taste.
Smartwatches combine the features of a fitness tracker with the essential characteristics of a smartphone into a single piece of wearable technology that you can have on your wrist at all times. These devices come complete with notification alerts and trackable fitness stats, and some models even have integrated GPS and the ability to store songs, so you can listen to your favorite tracks when you're working out.
Below are six smartwatches that come with a price tag of under $150. Some of them are compatible with most smartphones, whereas others only work with specific operating systems. Check out our reviews to find the best smart accessory for your lifestyle.
Budget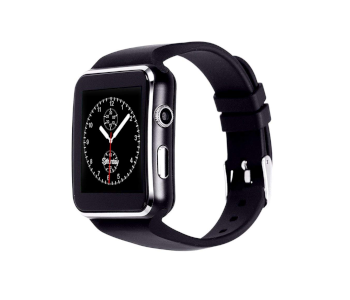 ASOON Smart Watch
4.1/5.0
Screen Size: 1.54″
Battery Life: Up to 7 days
Lots of features for the price and easy to pair with phone.
Check Amazon
Best Value
Amazfit Bip Smartwatch
4.7/5.0
Screen Size: 1.28″
Battery Life: Up to 45 days
Great value, stylish design, and lightweight.
Check Amazon
Top Pick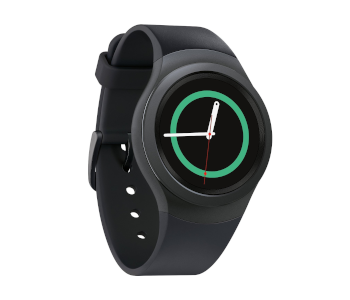 Samsung Gear S2 Smartwatch
4.8/5.0
Screen Size: 1.2″
Battery Life: Up to 96 hours
Compatible with iOS and good battery life.
Check Amazon
What to Look for in a Smartwatch
Battery Life
Smartphone Compatibility
Display
Heart Rate Sensor
Built-in GPS
Smartwatches Under $150 Comparison Table
1. Best Overall – Samsung Gear S2 Smartwatch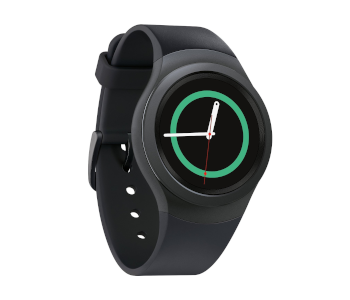 View on Amazon
Editor's Rating: 4.8/5
Samsung has been at the forefront of the smartwatch revolution since the beginning, and the Gear S2 was revealed in 2015. The precursor to the more expensive Samsung Gear S3, the smartwatch has been a success not only because of its design that incorporates a rotating bezel but also because it's a slim, easy-to-wear gadget.
Featuring everything you would want in a fitness tracker, the Gear S2 is elegant and reliable, which is why it's our top choice for this budget.
With the Gear S2, Samsung has delivered a smartwatch with a unique circular interface complemented by a rotating bezel. We found this feature to be pretty impressive, as it lets you switch effortlessly from media playback to alarms, notifications, calendar appointments, fitness trackers and more with a simple twist.
The Home and Back buttons on the back enhances the intuitive user experience, while the stainless-steel and classic, premium construction makes it suitable for both casual and more formal wear.
The Gear S2 is not only stylish with its customizable design but also highly functional. It features a built-in fitness tracker that is just as good as that provided by dedicated devices and is compatible with both Android and iOS smartphones.
A wireless charging dock is supplied in the package, and all you have to do to recharge your watch is place it on the dock. The charger is sturdy and the magnetic feature means that knocking it accidentally is unlikely.
The battery life is comparable to high-end devices, offering up to 96 hours of use in stand-by and approximately 48 hours for 3G use. With light use, you can regularly get about two days out of it.
What Didn't We Like About It?
The Gear S2 operates on Samsung's own Tizen OS, which should bring a fresh feeling to Android Wear. In practice, there are a couple of things missing that would've made the Gear S2 a perfect piece.
Google Maps is not available, and you may also find that not all apps available for Android exist for Tizen. Some minor interface lags and connectivity bugs are also to be expected with this smartwatch, especially when it comes to notifications.

Tech Specs
Screen Size: 1.2″
Resolution: 360 x 360 pixels
Weight: 42 grams
Water Resistance: Up to 1 meter for up to 30 minutes
GPS: Yes
Battery Life: Up to 96 hours
Compatibility: Android OS 4.4+, iOS 9.0+
The Pros
Good battery life
Compatibility with iOS
Brilliant rotating bezel interface
Sleek look
The Cons
Connectivity bugs
Limited app selection
2. Best Value – Amazfit Bip Smartwatch
View on Amazon
Editor's Rating: 4.7/5
The old saying "you get what you pay for" is usually true, but not in the case of the Amazfit Bip Smartwatch. Offering excellent value for money, the Bip is a good choice for those who want most of the bells and whistles of a high-end smartphone but are willing to compromise here and there in exchange for a lower price tag.
The stylish design of the Bip is quite similar to that of the Apple Watch, and the eye-catching wearable comes with a soft silicone band that fits all wrist sizes. While it may not offer the same level of functionality as the Fitbit Versa or Samsung Gear S3, the Bip is a feature-rich device with long battery life, an integrated fitness tracker, and notifications capabilities.
What you are bound to notice from the start is the lightweight design. At 32 grams, the Bip feels a bit like a toy, but don't let this fool you. The 2.5D Corning Gorilla Glass capacitive touchscreen and sturdy polycarbonate build make the watch resistant to any kind of use. Moreover, you can submerge the device in up to 5 feet of water for 30 minutes.
The Bip smartwatch comes with three sensors: a motion one for tracking movement during exercise and step counts, a GPS to track your location, and a heart rate sensor. You can pair it with both Android and iOS phones via Bluetooth, but you need to remain within about 30 feet of the phone to maintain the connection.
The companion app is surprisingly good for a device in this price range. Called Mi Fit, the app syncs and stores steps, location, and distance, while also measuring a range of outdoor activities, including cycling, running, and walking. It also allows you to activate an array of notifications from apps such as WhatsApp, Facebook Messenger, YouTube and Instagram.
What's Not So Great
Even though the Amazfit Bip Smartwatch offers sleep and GPS tracking that many much more expensive models lack, it comes up short in other areas. There is no NFC or microphone. You also cannot use the device to control the music on your phone. However, this smartwatch still offers the best value if you're willing to forgo these features.

Tech Specs
Screen Size: 1.28″
Screen Type: LCD
Resolution: 176 x 176
Weight: 32 grams
Waterproof: No
GPS: Yes
Battery Life: Up to 45 days
Compatibility: Android 4.4+, iOS8+
The Pros
Great value
Stylish design
Lightweight
Battery life
Excellent app
The Cons
Lack of features
No music controls
No NFC
3. Best Budget – ASOON Smart Watch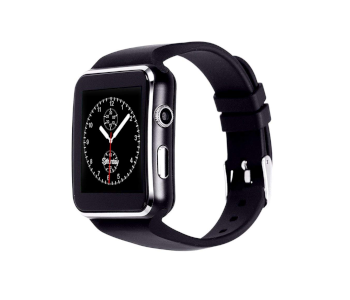 View on Amazon
Editor's Rating: 4.1/5
A suitable choice for children, this inexpensive smartwatch packs a punch for its price tag. It is also a good choice for users who are more interested in function than design and are looking for a wearable that does the job without breaking the bank. We found that despite its ridiculously low price, the ASOON smartwatch performs quite well and has a wealth of features too.
The 1.54-inch touchscreen is responsive and easy to operate, and the rubber strap is easy to adjust and feels comfortable on the wrist. The 550mAH battery lasts approximately seven days, which is better than many more expensive models.
When it comes to functionality, the ASOON packs many of the features you would expect in this type of wearable, including pedometer, alarms and notifications, sleep monitoring, image viewer, and sedentary remind.
The bracelet is made from soft runner, and it feels quite comfortable, without any restraint when you're exercising. The device is a bit on the larger side, being suitable for those with larger wrists.
We liked that this wearable can work as a phone. To do that, you need to insert a 2G SIM card into the watch and then you can take and make calls as well as send and receive text messages.
Thinks We Didn't Like
The smartwatch is only compatible with Android smartphones and needs an SD card for some functions such as sound recording and the camera. It also doesn't have GPS tracking, but this should be expected in a device that's so inexpensive.

Tech Specs
Screen Size: 1.54″
Resolution: HD Touchscreen
Weight: 49 grams
Water Resistance: No
GPS: No
Battery Life: Up to 7 days
Compatibility: Android 4.2+
The Pros
Lots of features for the price
Easy to pair with phone
Good battery life
The Cons
No iOS compatibility
No GPS
4. Ticwatch E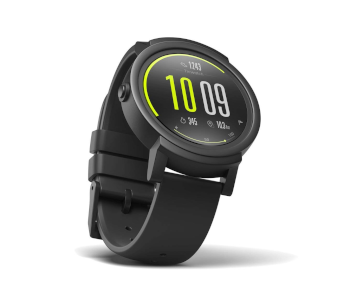 View on Amazon
Editor's Rating: 4.7/5
A budget-friendly smartwatch with a bit of a chunky design, the Ticwatch E is a lightweight wearable that is quite attractive, albeit simple. The watch is highly customizable and you can choose from 21 watch faces, some of them inspired by sports activities and others by fashion styles. With a face built out of scratch-resistant glass, the Ticwatch E works well for users who are interested in a durable device that performs well outdoors.
The round display of the watch is intuitive, so you can access information easily. The Tic Health app is a bit reminiscent of Apple's and uses colorful graphs to break down step frequency, heart rate, exercise, and more. Once paired with Android Wear, the app syncs automatically, so and it also features a map to show you your cycling or running route.
Although it could be classified as a fairly basic smartwatch, the Ticwatch features GPS tracking and a heart-rate monitor, which means that the device can double as a decent fitness tracker. The screen is bright and easily viewable in sunlight.
There aren't too many budget smartwatches out there that sport a unisex design, but the Ticwatch E fits the bill here. Looking a bit more like a hybrid watch than a smartwatch, it comes in both black and white designs and a super soft silicone strap that remains comfortable throughout the day.
What's Bad About It?
Even though the design makes it perfect for those who want good performance for the outdoors, the Ticwatch E isn't waterproof, so you cannot submerge it. It's not even intended for the shower.
The watch is compatible with iOS phones, but the pairing and connectivity leaves a lot to be desired. We found that the Bluetooth connection disappears at times even when you're in close range from the phone. The Ticwatch E runs on Google's Wear OS after all, so you can expect it to perform smoothly with Android devices.
The battery life is also slightly disappointing as it only lasts up to 48 hours. In reality, you should expect to have to charge it daily with regular use.

Tech Specs
Screen Size: 1.45″
Screen Type: OLED multi-touch screen
Resolution: 400×400
Weight: 41.5 grams
Waterproof: No
GPS: Yes
Battery Life: Up to 48 hours
Compatibility: Android 4.3+, iOS 9.0
The Pros
Excellent value for money
GPS and heart rate monitor
The Cons
Disappointing battery life
Poor iOS connectivity
Body feels a bit plasticky
5. ASUS ZenWatch 2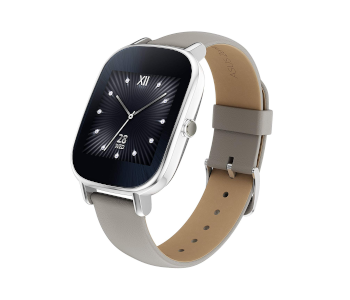 View on Amazon
Editor's Rating: 4.6/5
A great-looking smartwatch with decent battery life, the ASUS ZenWatch 2 is a good choice for day-to-day wear but is less stellar as a fitness tracker. The watch is not a very good fit for those with smaller wrists because of its over-sized bezels, which makes it unsuitable for many women.
The ZenWatch 2 is the heir to the ASUS ZenWatch that was launched in 2014. At that time, the gadget became popular due to its useful suit of apps and elegant design. The ZenWatch 2 continues the trend and sports a stainless-steel case and a metal crown that make it unassuming, thus perfect for those after a more traditional look.
With a battery life that offers up to two days of regular use, the ZenWatch 2 comes with fast-charging, which means that you can get around 50% charge in just 30 minutes. The battery life is further improved by Asus' sensor hub that calculates data from the gyroscope and accelerometer on its own instead of relying on the Snapdragon 400 chip, which translates into enhanced power-efficiency.
The ZenWatch Manager app lets you manage all the settings of your smartwatch, including different watch faces, recommended Asus apps, and the Smart Unlock feature. When this feature is active, your phone will remain unlocked when it is close proximity to your watch.
The watch also comes with a "Forgot Phone Warning," which alerts you via vibrations when you step out of your phone's range, thus reducing the possibility of losing it or leaving home without it.
Running on the most current version of Android Wear, the ZenWatch 2 is also compatible with iOS devices, but the experience is rather limited. However, there is notification support for Apple phones.
At just under $150, the ZenWatch 2 provides good value for money and is a good choice for those who want something a bit smarter than a fitness band and aren't willing to fork out for models with lots of bells and whistles.
What We Didn't Like
While the ZenWatch2 doubles rather well as a fitness tracker, the lack of a dedicated heart rate sensor is disappointing. The large bezels may be uncomfortable for those with wrists on the smaller side, and pairing and using the watch with an iOS device could use a bit of fine-tuning.

Tech Specs
Screen Size: 1.45″
Screen Type: AMOLED
Resolution: 320 x 320
Weight: 40 grams
Waterproof: No
GPS: No
Battery Life: Up to 48 hours
Compatibility: Android 4.3+, iOS 8.2+
The Pros
Battery life
Elegant design
Wealth of apps and features
The Cons
Disappointing iOS experience
Large bezels
Lack of heart-rate monitor
6. Pebble Smartwatch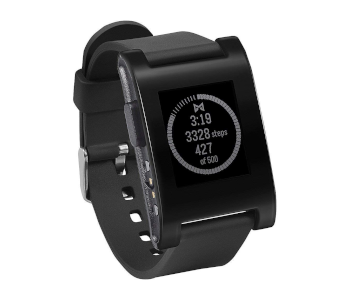 View on Amazon
Editor's Rating: 4.5/5
Some say it's not a smartwatch, but we believe that if it quacks like a duck, it probably is a duck. Dubbed by others as the Linux of smartwatches, the Pebble is an understated wearable that was the result of crowdfunding. A reasonably-priced device that sports an energy-friendly e-Ink display, this watch comes in multiple colors including white, black, red, grey, and orange to suit all personalities and lifestyles.
You shouldn't be surprised by the simplicity of the Pebble because this was the intention of its creators. While the design might not be for everybody, the Pebble has a basic rubber strap and puts a lot of features on your wrist, including notifications, music control, and access to apps you use on your phone to track your fitness routine.
The watch has four external buttons that you have to press firmly to register an action. The tiny screen may be off-putting at first, but there are lots of uses for it, including multiple watch faces, music control, and displaying the first few lines of an SMS or email.
The e-Ink screen of the Pebble is the reason the battery life is exceptional. A single charge should last for up to seven days. Moreover, the watch recharges very quickly, reaching a full battery in just a couple of hours.
The 5ATM waterproof rating of the watch means that you don't have to take it off while in the shower or when you're diving or swimming. The music control feature allows you to change tracks from your wrist, which works great if you like to keep your phone on an armband when you exercise.
As for notifications, you can add a huge number of third-party apps to improve the built-in features of the watch. This is possible because Pebble is open-source.
What Needs Improving
While it has an integrated pedometer, the Pebble doesn't come with a dedicated step counting app, so you need to use a third-party one instead. The good news is that most of the popular fitness apps for both iOS and Android support Pebble. Besides choosing from different watch faces and setting alarms, you can't do much without pairing the watch to your phone.

Tech Specs
Screen Size: 1.25″
Screen Type: e-Ink
Weight: 38 grams
Waterproof: Yes
GPS: No
Battery Life: Up to 7 days
Compatibility: Android 4.0+, iOS6+
The Pros
Sleek design
Long battery life
Highly customizable
The Cons
No step counting app
Needs pairing with phone for most features
Charging cable takes a while to get used to