8 Most Popular Stereo Microphones
3D Insider is ad supported and earns money from clicks, commissions from sales, and other ways.
This guide reviews 8 of the current favorite stereo microphone choices. However, not every situation needs or even benefits from stereo recording (see below). It's a misconception that one is better than the other. Stereophonic can be superior to monophonic—and vice versa—in certain recording conditions. Keep reading if you need to know more about when to use stereo and when to avoid it.
Budget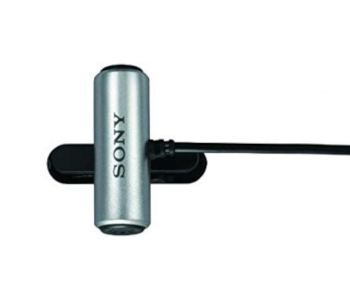 Sony ECMCS3 Lavalier
4.4/5.0
Mic Type: Lavalier lapel
Pickup Pattern: Omnidirectional
Plug-n-play, hands-free recording, tiny and discreet, decent sound, value.
Check Amazon
Best Value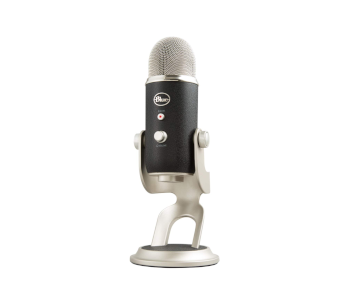 Blue 1967 Yeti Pro
4.5/5.0
Mic Type: Studio condenser
Pickup Pattern: Multi-pattern (4)
First-class build, XLR cable, USB cable, on-body controls, versatile.
Check Amazon
Top Pick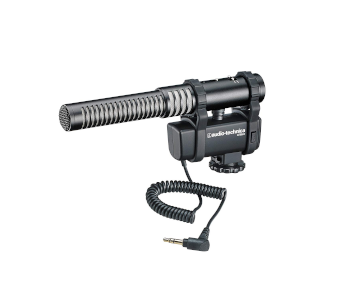 Audio-Technica AT8024
4.8/5.0
Mic Type: Shotgun condenser
Pickup Pattern: Cardioid
Compact and lightweight, integral rubber shock mounts, 2 pads.
Check Amazon
What Is a Stereo Microphone—Exactly?
A stereo microphone is two mics, usually—though not always—inside a single unit. All that means is that there are two capsules (diaphragms) attached to one body. The other type is the stereo set, which consists of two separate mics. You buy them as a pair, but they're not a single stereo unit. A matched pair is easy to set up, and you can place them wherever you need to for the best effects.
Stereo mics output two mono signals to create stereo sound. They tend to cost more than a matched pair. The advantage is that they're convenient, easy to carry, and simple to use. The mics use configurations such as XY, Blumlein, Mid-Side (M-S), ORTF, and a few others. Be sure to look up stereo mic configurations if you decide to record in stereophonic sound.
When to Use a Stereo Mic
Stereo microphones create what's known as a wide audio image. They can be especially effective at capturing the spatial presence and depth of instruments. That's not their only use. There are times when capturing environmental sounds adds a certain richness to projects.
So, consider a stereo recording when you want to capture a wider sound. That means sounds that come from the left, right, left-to-right, and right-to-left. Thus, recording in stereo is better for live events. That's when you want listeners to hear in much the same way as they would in the real-world. Ambiance can be vital for music performances, wedding receptions, air shows, and racing tracks, etc.
What Is a Mono Microphone—Exactly?
Mono mics produce monaural sounds and use a single channel to achieve this. A mono microphone has a single capsule membrane and records a single audio track. They are typically forward-facing and thus point in the direction of the sound source. Most directional microphones record in mono. Mono mics are the most widespread, but there are times when stereo is the far better option.
Wearing headphones is a helpful way to explain monophonic recordings. Even a stereo headset produces identical sound in the left and right ear with a mono soundtrack. Mono mics are cheaper and more straightforward to record with than stereo equipment. Mono recordings have considerably smaller file sizes than stereo too. That means less bandwidth when streaming online audio.
When to Use a Mono Mic
There are plenty of situations where a stereo recording is the wrong choice. Solo interviews don't need the distraction of stereo sound. A couple taking their wedding vowels wouldn't benefit from stereo either. The reception afterward, though, most likely would. In short, mono is always the better choice whenever you need to zoom in and isolate the sound source.
How to Choose a Stereo Microphone
Only you can know whether you need a stereo or a mono microphone. It's something to start thinking about if you're unsure. Maybe you need both? Some mics—like the Blue Yeti (see reviews)—let you switch between stereo and mono. The reviews below highlight the applications and other advantages of each mic. Likewise, they also underline any disadvantages or potential cons where appropriate.
About My 'Stereo Microphone' Buyer's Guide
My guide reviews 8 exceptional stereo mics and a couple with both stereo and mono capability. I've included different microphone types and across all budgets. I also looked at user feedback and the views of industry experts before finalizing this list. The first three reviews are the Editor's Choice for Best Budget, followed by Best Value, and the Top Pick.
Stereo Microphones Comparison Table
1. Sony ECMCS3 Lavalier Stereo Mic | Best Budget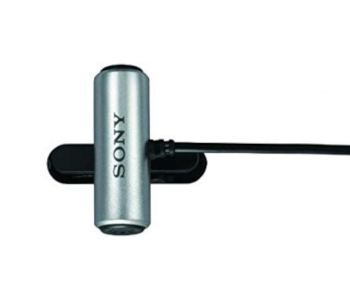 View on Amazon
Editor's Rating: 4.4/5
The Best Budget microphone goes to the highly affordable Sony ECMCS3. It's a stereo lavalier type mic, which means it has a tiny wearable capsule. Let's look at why it's so popular.
Best feature 1: Highly affordable clip-on stereo microphone
Best feature 2: 360° rotating design for flexible positioning
Plus points: Plug-n-play, hands-free recording, tiny and discreet, decent sound, value
Minus points: Short cable, sensitive
Sony ECMCS3 Stereo Mic Highlights
Sony ECMCS3 clip style lav microphone has a small footprint and an elegant design. It's all plastic with a metallic look, but it feels rugged enough. It easily clips on discretely to clothing and has a 360° rotating head for precise placement. At the end of the cable is a 3.5mm stereo jack plug that should work with any device that accepts it. iPhone users need a TRRS splitter, though.
This mic performs best when connected to an external device. That can be an external USB sound card or an audio recorder, as two examples. The point is that it's flexible and has multiple ways to connect with various hardware. Few budget-priced mics offer this kind of stereo quality and flexibility.
The Not So Good
The attached 3ft cable is painfully short and a common gripe. It needs an extension if you want distance or must walk around. The ECM-CS3 uses an omnidirectional pattern, so it's sensitive to ambient sounds. That rules out gaming as it's sure to pick up all the clickety-clack of a keyboard.
Tech Specs
Brand: Sony
Mic Type: Lavalier condenser
Cord Length: 3.3ft (1 meter)
Connection: L-shaped 3.5mm mini stereo
Polar Pattern: Omnidirectional
Power: Plug-in device
Frequency: 50–5,000 Hz
Output Level: -38.0dB
Dimensions: 4.4 x 6.3 x 1.5"
Mic Weight: 0.42 oz.
Warranty: 1 Year
The Pros
Highly affordable stereo mic
Rotating design for easy placement
Plug-n-play simplicity
Hands-free operation
Small and discreet
Decent stereo sound
Excellent value
The Cons
Very short cable
Sensitive omni pickup
2. Blue 1967 Yeti Pro Stereo Microphone | Best Value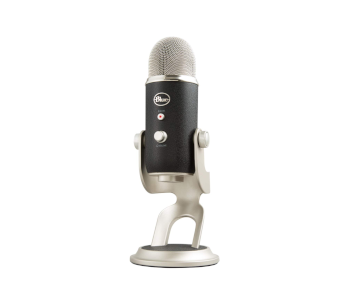 View on Amazon
Editor's Rating: 4.5/5
Blue's 1967 Yeti Pro makes the Best Value slot. It's a mono/stereo mic packed with amazing features and one of the most versatile microphones around right now.
Best feature 1: Four polar pattern selector switch with stereo option
Best feature 2: Sturdy, pre-installed desktop stand
Plus points: First-class build, XLR cable, USB cable, on-body controls, versatile
Minus points: Heft, stand picks up vibrations, price tag
Blue 1967 Yeti Pro Stereo Mic Highlights
The build quality of the Blue 1967 Yeti Pro is first-rate. It has an all-metal body with a textured material coating. The grill is also metal and incredibly rugged. At the bottom of the mic is a 5/8" microphone stand adapter. There's also an XLR port, USB port, and a 3.5mm headphone slot for latency-free monitoring. At the front is a mute button and volume control for the headphones.
Unlimited Applications
On the back of the Yeti Pro are the gain dial and polar pattern section switch. The four pickup patterns include Bidirectional, Cardioid, Omnidirectional, and Stereo, in that order. There's a lot of mic packed in here and endless opportunities to adapt to different applications. Being able to use it as a plug-n-play USB mic and an XLR condenser adds even more appeal to the 1967 Yeti Pro.
The sound quality is outstanding for a mic in its class. It works well for musical instruments, speech, and vocals. Blue's 1967 Yeti Pro is a truly versatile product and excellent value considering what it offers. It's akin to having four microphones in one body, thanks to its polar patterns. However, there are cheaper options that sound just as good if you only need a mic with one pickup pattern.
The Not So Good
Don't buy Blue's 1967 Yeti Pro if you want a lightweight, portable setup. It's a beast both in size and weight when fully-assembled. Heft is a good thing if you have a permanent home for it. Also, the stand is prone to vibrations, so it needs careful placement and then leaving there. Either that or mount it onto a scissor boom arm. Blue's 1967 Yeti Pro is quite pricy, but it still offers value.
Tech Specs
Brand: Blue
Mic Type: Studio condenser
Cable: Stereo XLR/USB
Power Supply: Phantom
Polar Patterns: Multi pickups 24-bit/192kHz audio resolution
Frequency Response: 20Hz to 20kHz
Max SPL: 120dB
S/N Ratio: 114dB
Dimensions (W/ Stand): 4.92 x 11.61"
Weight (Mic): 19.2 oz.
Weight (Stand): 35.2 oz.
Warranty: 2 years
The Pros
Four polar pattern selector (includes stereo)
Sturdy pre-installed stand
First-class, rugged build
Clear, crisp audio
Can use as a USB or XLR mic
XLR/USB cables included
Headphone port
Headphone volume control
On-body mic gain dial
On-body mic mute button
The Cons
Heft
Stand prone to vibrations
High price tag
3. Audio-Technica Stereo/Mono Mic | Best Value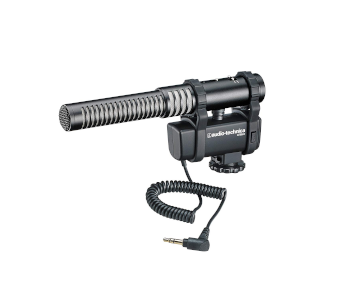 View on Amazon
Editor's Rating: 4.8/5
Audio-Technica is another well-established name in the world of quality mics of exceptional value. This one is its AT8024—another microphone with stereo and mono recording capability.
Best feature 1: Choice to record in stereo or mono
Best feature 2: High-resolution audio
Plus points: Compact and lightweight, integral rubber shock mounts, 2 pads, power indicators
Minus points: Molting dead cat, expensive
Audio-Technica AT8024 Mic Highlights
This shotgun mic is for use with DSLRs and other camera types. The compact, lightweight design and connected cold shoe mount make it travel-friendly and quick to prepare. Its high-resolution audio is a significant improvement over built-in microphones. The AT8024's impressive sound is partly due to its adjustable 3-position attenuator and switchable high-pass filter.
The highlight of this camera microphone is its ability to record in mono or stereo. The Audio-Technica AT8024 also sports rubber integral shock mounts. They help to isolate the mic from unwanted mechanical camera noises and vibrations. And the red/green indicators mean no guessing about ON/OFF status. That's especially welcome with any mic that uses battery power.
The Not So Good
The Audio-Technica AT8024 is a quality shotgun mic, but it's still quite expensive for a lot of folks. Dead cat wind muffs are cheap to buy, but the one supplied here is the bottom of the barrel. It does a decent job, but it loses fur like a molting feline. Be sure to invest in a better fury dead cat if you decide to buy this stereo shotgun.
Tech Specs
Brand: Audio-Technica
Mic Type: Shotgun condenser
Connection: 3.5mm stereo jack
Polar Pattern: LR stereo, cardioid
Power Supply: 1 x AA
Battery life: AVG. 80 hours
Frequency Response: 40 to 15000Hz
Impedance: 50 ohms
Sound Level: 128dB SPL
Dimensions: 11.8 x 5.1 x 2.8"
Product Weight: 4 oz.
Warranty: 1 year
The Pros
Stereo and mono operation
Designed for DSLRs
High-resolution audio
Compact and lightweight
Rubber integral shock mounts
Two Attenuation pads
ON/OFF LED power indicators
The Cons
Molting dead cat
Quite expensive
4. Behringer C-2 Studio Condenser Microphones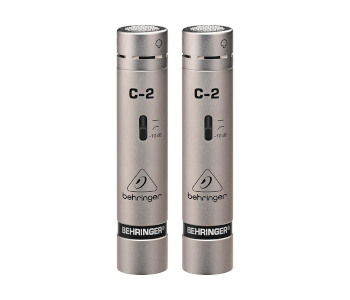 View on BH
Editor's Rating: 4.7/5
Meet the Behringer C-2. It's a studio condenser matched pair of stereo microphones. This is an affordable duo that's perfect as a leading or support tool for live and in-studio applications.
Best feature 1: Matched pair of stereo condenser mics
Best feature 2: Flexible use, multiple applications
Plus points: Rugged metal build, roll-off switch, input attenuation, accessories
Minus points: Decent—though not exceptional—audio
Behringer C-2 Matched Pair Mic Highlights
There are a few features worth exploring with the C-2 stereo pair of studio condenser mics. They can be invaluable for certain stereo functions. Some examples are acoustic instruments or a trio, either live or for studio applications. The cardioid pattern picks up sound directly in front of the mics and rejects it from behind. This is a flexible single-use product as well as a working pair.
These well-built metal mics have two on-body switches. One is a low-frequency roll-off to reduce or eliminate any unwanted low-rumbling sounds. The other switch is a handy -10dB input attenuation pad to deal with hot signals. Other highlights are super low-noise, impressive frequency response, and minimal distortion. Connecting the mics is simple via their gold-plated 3-pin XLR connectors.
The Not So Good
There's little to gripe about with the Behringer C-2 matched pair considering the price. But there's a bit of negative feedback about the audio quality. I can tell you that it's more than decent—for its class, and most savvy users agree. People with realistic expectations are guaranteed to appreciate these mics for what they are. Those who compare the C-2 matched pair against $300+ alternatives will not.
Tech Specs
Brand: Behringer
Mic Type: Stereo matched pair
Connection: Gold-plated 3-pin XLR
Polar Pattern: Cardioid
Power: Phantom +48V
Frequency Range: 20Hz-20 kHz
Max SPL: 140dB
Impedance: 75 Ohms
S/N Ratio: 75dB
Dimensions: 11.9 x 5.1 x 3.4"
Product Weight: 26.4 oz.
Warranty: Limited 3 years
The Pros
Matched pair of stereo mics
Flexible use, multiple applications
Rugged, metal build
On-body roll-off switch
On-body input attenuation
Custom stand adapters
Includes windscreens
Stereo bar to house both mics
Transport case
Excellent value
The Cons
Decent, but not exceptional sound
5. Sony ECMXYST1M Quality Stereo Microphone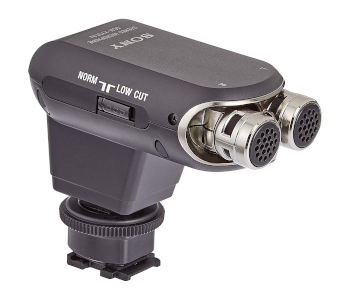 View on Amazon
Editor's Rating: 4.3/5
The Sony ECMXYST1M is a quality, lightweight, and compact stereo microphone. It's compatible with Sony Cyber-shot cameras, Multi-Interface Alpha cameras, and Handycam camcorders.
Best feature 1: Stereo sound
Best feature 2: Adjustable recording range
Plus points: Decent audio quality, wide frequency band, quality windscreen, value
Minus points: Slight hiss, works best with Sony multi-interface shoe
Sony ECMXYST1M Stereo Mic Highlights
Sony's ECM-XYST1M stereo mic is a recording system for Sony compatible cameras. It's small and lightweight, uses plug-in power, and has audio that far surpasses built-in mics. The pickup range is from 0° to 120° that you can adjust manually. It's suitable for all kinds of recording situations. Users can zoom in and focus on a single sound source or pick up the ambiance of a wider area.
The mic's wide frequency band ranges from 70Hz to 2000Hz. Extras include a spacer, a windscreen, a connecting cable for cold shoe mounts, a connector protective cap, and a soft pouch.
The Not So Good
This mic is primarily for Sony's Multi-Interface (MI) Shoe. That includes Cybershots, Handycam camcorders, and its Alpha line. It does have a cold shoe adapter cable for models that don't have the MI Shoe. Contact the seller if you like this mic but are unsure about compatibility. Some users report a slight background hiss. It's barely audible, though, so doesn't seem to be a deal-breaker.
Tech Specs
Brand: Sony
Mic Type: Stereo camera mic
Connection 1: Multi Interface Shoe
Connection 2: Stereo mini-jack
Polar Pattern: Directional
Power: Plug-in device
Frequency Band: 0–120°
Dimensions: 3.0 x 2.5 x 1.5"
Product Weight: 3.52 oz.
Warranty: 1 Year Limited
The Pros
Stereo audio mic
Adjustable recording range
Decent sound quality
Wide frequency band
Quality windscreen
Value for money
Spacer included
Dead cat wind cover
Mic terminal cable
Connector protective cap
Soft carrying pouch
The Cons
Some reports of slight hissing
Primarily for multi-interface shoe
6. Shure MV88 Digital Stereo iOS Microphone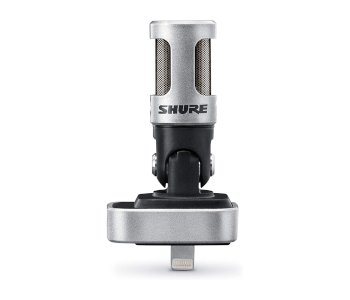 View on Amazon
Editor's Rating: 4.4/5
No microphone review would be complete without at least one Shure product. This is the company's MV88 model—a competent digital stereo microphone for use with Apple iOS.
Best feature 1: Easy to carry, pocket-friendly stereo mic
Best feature 2: Five digital signal processing modes
Plus points: Easy to use, versatile, Tilt/Flip/Rotate, 2 free mic apps, windscreen, carry case
Minus points: Limited movement, no charging while recording, power-hungry app
Shure MV88 Stereo iOS Mic Highlights
Microphone Compatibility: All smart iOS devices equipped with Apple's Lightning connection. They included iPhone 5 (and later), iPad Air 2, iPad Pro, iPad mini, iPad mini 2, iPad mini 3, iPad Air, iPad (4th Gen.), and iPod touch (5th Gen).
Apple users who want a small, lightweight, flexible stereo microphone should consider the Shure MV88. It's a pocket-sized device, but its smallness is no setback. The MV88 is a feature-packed tool that boasts 5 digital signal processing modes. They include Singing, Speech, Flat, Loud, and Acoustic Instrument. EQ, limiting, and compression adjust automatically to produce optimal results.
The microphone body flips, tilts, and rotates up to 90-degrees. Its flexibility helps users to get the stereo clarity they need. Owners of the Shure MV88 have access to two free apps, i.e., MOTIV Audio & MOTIV Video. The apps make easy work of mic control and recording. Extras include a windshield and a smart semi-hard-shell carry/storage case.
The Not So Good
The MV88 can tilt, flip, and rotate, and that's awesome, but the movement is restricted to 90°. That means you must detach and reposition it you need to turn the mic the other way. That's not a serious gripe as much as a minor inconvenience. A more annoying flaw is that it's not possible to charge the phone's battery while recording with the mic. Also, the ShurePlus MOTIV App is power-hungry.
Tech Specs
Brand: Shure
Mic Type: Stereo condenser
Connection: Apple Lightning connector
Polar Pattern: Cardioid & bidirectional
Power Supply: Plug-in device
Recording Quality: 24-bit
Product Dimensions: 1.4 x 1 x 2.6"
Product Weight: 1.44 oz.
Warranty: 2 years
The Pros
Easy to carry, pocket-friendly
Stereo recording
Plug-n-play simplicity
5 digital signal processing modes
Versatile product
Tilt/Flip/Rotate body
2 free mic apps
Windscreen
Smart carry case
The Cons
Limited movement
No charging while recording
Power-hungry app
7. Sennheiser MKE 440 Pro Stereo Shotgun Mic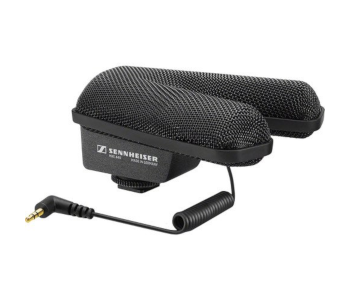 View on Amazon
Editor's Rating: 4.2/5
My penultimate review goes to the Sennheiser MKE 440 Pro. It's a stereo dual mini shotgun type mic. The compact design has an all-metal build that fits standard camera shoe mounts.
Best feature 1: Two matching shotgun elements
Best feature 2: Compact design, all-metal construction
Plus points: Superb audio, supercardioid pickup, built-in suspension, built-in wind protection
Minus points: Needs a battery, poor battery indicator LED
Sennheiser MKE 440 Stereo Mic Highlights
The MKE 440 is a pro-level stereo microphone with a lot to offer. It's perfectly aligned and matched mini shotgun elements guarantee perfect audio. The tight supercardioid pickup pattern rejects off-axis noise beautifully. That ensures the sound source records with no unwanted interruptions. And the built-in wind noise protection behind the micro mesh further enhances the audio.
Another of the MKE's standout features is its 3-level adjustable sensitivity. All features combined make this a versatile audio tool for a range of applications, i.e., music, ambiance, and speech. Other highlights include the standard shoe mount, built-in elasticated suspension, and ease of use.
The Not So Good
The bad news is that this mic needs a AAA battery to function. The good news is that it lasts for a long, long time. Staying with power is the poor LED indicator, which only blinks momentarily when you turn it on. That lets you know the battery has some power, but not the remaining levels. It would make more sense if it remained on and glowed weaker or flashed when levels got low.
Tech Specs
Brand: Sennheiser
Mic Type: Stereo shotgun
Connection: 3.5mm jack
Polar Patterns: Stereo, supercardioid
Power: 1 x AAA
Operating Time: Approx. 100 hours
Frequency Response: 50Hz–20kHz
Max SPL Level: 132 dB
Low Cut Filters: Switchable
Mic Dimensions: 2.6 x 4.2 x 5.0"
Mic Weight (No Battery): 5.8 oz.
Warranty: 2 years limited
The Pros
Two matching shotgun elements
Compact design
Rugged, all-metal construction
Versatile microphone
Superb audio quality
3-level adjustable sensitivity
Tight supercardioid pickup
Built-in elasticated suspension
Built-in wind protection
The Cons
Needs a battery
Poor battery LED indicator
8. Rode Stereo NT4 X/Y Condenser Microphone
View on Amazon
Editor's Rating: 4.8/5
Last of the current lineup of stereo microphones is the satin-nickel Rode Stereo NT4. It's an X/Y condenser type microphone that sports a matched pair of cardioid capsules.
Best feature 1: Dual 1/2-inch gold-sputtered capsules
Best feature 2: Battery or Phantom power
Plus points: Satin-nickel finish, simple to use, 90° alignment, versatile, flexible connectivity
Minus points: Expensive, no high-pass filter
Rode Stereo NT4 X/Y Mic Highlights
Rode's NT4 X/Y stereo condenser mic is an exceptional audio tool. The capsules have 90° alignment and provide a textbook X/Y stereo array. The single unit arrangement does away with the need for a matched pair of mics and stereo bars, etc. All you do is place the mic where you need it and let the recording begin. Or, there's always RODE NT5 for those who still prefer the separate mic approach.
The NT4 produces high-quality stereo sound for several applications. It works exceptionally well as a drum overhead and for percussion. Fans of the mic also exploit it for groups, choirs, orchestras, and environmental recordings. Another feature worth noting is that the NT4 can run on phantom power or a 9V battery. It also offers flexible connectivity via an XLR cable and 1/8" stereo mini-jack.
The Not So Good
This mic is exceptional value and those who buy it can easily justify its cost. However, it still has a high price tag that exceeds 500 dollars. That's sure to put it out of reach for many keen amateurs. The mic doesn't have a high-pass filter (HPF), which is sure to be a buying consideration for some.
Tech Specs
Brand: Rode
Mic Type: Stereo Condenser
Connection: 1 x 5-Pin DIN
Polar Pattern: Cardioid XY Stereo
Power: 48V Phantom/9V battery
Frequency Response: 20Hz – 20kHz
Max SPL: 143dB
Output Impedance: 200 ohms
S/N Ratio: 78dB
Mic Dimensions: 9.09 x 1.30
Product Weight: 16.96 oz.
Warranty: 10 years w/ registration
The Pros
1/2-inch gold-sputtered capsules
Battery OR Phantom power
Durable satin-nickel finish
Simple to use
Perfect 90° alignment
Versatile use
Flexible connectivity
Stereo cables XLR & mini jack
Twin head windshield included
The Cons
Expensive
No high-pass filter