TV Sound Bar Black Friday Deals
3D Insider is ad supported and earns money from clicks and other ways.
While it may not be the hottest ticket item for the Black Friday season, there are definitely people interested in sound bars for their TVs. Thanks to big discounts from leading brands like Samsung, you'll be able to get your next sound bar for an inexpensive price.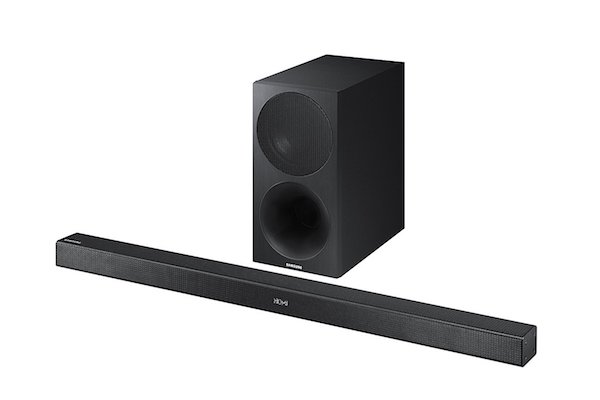 If you're looking for a sound bar that has a wireless subwoofer included, you should check out the Samsaung HWM450 with a subwoofer bundle. Originally retailing for $279, you can now pick this up for $158. The 320W 2.1 channel sound bar also includes a remote control and wall mounting kit.
Originally priced at $111, this VIZIO 29-inch sound bar is available right now on Amazon for only $66. Featuring Bluetooth enabled capability for wireless listening, you can also mount this to a TV stand set, or a wall for optimal efficiency and ease of use.
Snag up the SONOS PLAYBAR Sound Bar this Black Friday for only $599. Delivering fantastic sound while being 35-inches in length, this unit also works with Alexa devices. You can connect it to other Sonos speakers to create a surround sound system seamlessly.
The PLAYBAR is the number one best seller  on Amazon in the "Home Audio Sound Bars" category for a reason. The sound this device produces will light up your room. Sonos is one of the best brands in the space, so this is a great deal.
The VIZIO SB4451 SmartCast is a 44-inch 5.1 sound bar system that is available now for $399.99. It has a retail price of $499.99, so you can save $100. Hook it up to your tablet, phone, or computer and get the party started. Not only can you hook it up via Wi-Fi or Bluetooth, but you can also use the included remote. This is recommended for TVs 42 inches and larger.
If you want a dynamic home experience, you'll want to look towards the Samsung HWM360/ZA sound bar that features wireless audio and Bluetooth connectivity. You'll be able to relax with the one-touch control, and listen to your favorite audio or movies with ease. Originally priced at $199, you can now purchase this for $117.
Last on our list is the Samsung HWM550 – yet another reliable sound bar system from Samsung. Originally priced at $379, you can now get this for $217. With Bluetooth and HDMI connectivity, you can connect to virtually anything, and listen with dynamic 3.1 surround sound.
Black Friday is known for the great deals you can get on TVs and accessories. If you are in the market for a sound bar now is the best time of year to pick one up for cheap.