6 Best Digital Cameras with Wifi in 2020
3D Insider is ad supported and earns money from clicks, commissions from sales, and other ways.
What's the point of a photo or video if there's no one to admire it? Getting your art out into the world has never been easier, thanks to the wonders of the internet. There are no photos to develop or interested parties to find; just hit that send button, and they're there for millions to appreciate. You could transfer them to a computer via cable and upload from there, but why bother if you can do it wirelessly?
Wifi is a godsend to photographers and videographers of all skill levels. It allows you to transfer media onto a smartphone and from there to social media without having to keep cables around. Wireless connectivity also lets you turn a smartphone's screen into a larger, more convenient live view with all the benefits of the real thing like pinch-zooming and autofocus selection.
These are the six best digital cameras with Wifi you can pick up today. Some are compact shooters ideal for the beach or travel while others deliver quality video regardless of lighting. However, all of them have strong Wifi backed by capable companion apps that make file transfer and camera handling much easier. Choose the camera you like best and start sharing your work without limitations.
Budget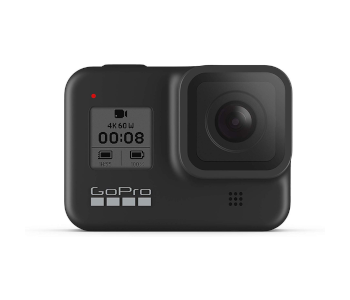 GoPro HERO8 Black
4.3/5.0
Type: Action camera
Burst rate: 30fps
Versatile companion app and great video quality.
Check Amazon
Top Pick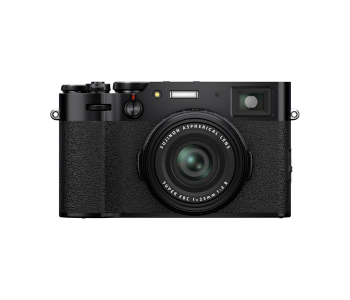 FUJIFILM X100V
4.7/5.0
Type: Compact
Burst rate: 20fps
Clean design with lots of customization options.
Check B&H
Digital Cameras with Wifi Comparison Table
1. Best Overall – FUJIFILM X100V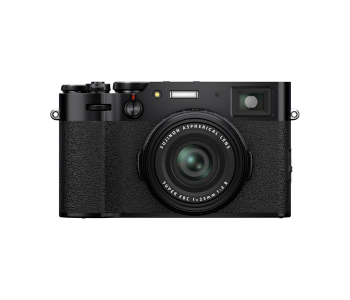 View on B&H
Editor's Rating: 4.7/5
Fujifilm's X100V is the world's most capable all-around compact camera. It produces remarkable results whether you're shooting travel photos, sports & wildlife action, or barely-lit cityscapes. The X100V also has class-leading video features and is backed by an app that makes transferring & sharing your art a snap. Your wallet might not like it, but your friends & followers will.
Overview of Features
The X100V looks similar to its predecessor, the X100F. However, closer inspection reveals subtle and welcome changes like a deeper grip and a focus ring that's easier to control precisely. The four-directional controller from the back is gone as a touchscreen now lets you change exposure levels or white balance in one swipe. The X100V has even better customization despite having fewer physical buttons, as most of them can be mapped to one of 64 functions.
Framing a shot with the X100V is straightforward regardless of weather since it has a hybrid viewfinder and a bright, responsive touchscreen. The viewer uses OLED to overlay important info when it's in optical mode, so even bright sunlight won't keep you from choosing optimum settings. The touchscreen tilts, letting you record concerts over crowds or take pictures from hip level. It instantly responds to touch and allows you to move autofocus points seamlessly, even if you're using the viewfinder.
The X100V has both Bluetooth and Wifi. It uses the FUJIFILM Camera Remote app to turn your smartphone into a remote shutter while also synchronizing its location data with the camera. You can transfer images and videos to your phone or view them remotely as well as publish photos on social media.
We love the X100V's vibrant and detailed photos. Fujifilm has equipped it with Color Chrome FX Blue, which increases the amount of contrast you can get out of uniformly blue surfaces. Turning it on makes for stunning shots of the sky or ocean. The X100V is no slouch when it comes to snapping pics of people either since its continuous autofocus keeps up with their faces and eyes well, even under dim light. The electronic shutter allows for burst speeds of 20fps, letting you save split-second moments for posterity.
Compact cameras aren't renowned for video performance, but the X100V is a welcome exception. It shoots smooth 4K video at 30fps and lets you adjust the appearance of video on the screen separately from whatever the physical controls are set to for photos. Video autofocus is as responsive as the photo variety, and you can hook up either a 2.5 or 3.5mm microphone to improve audio input.
What We Didn't Like
The X100V's excellence is reflected in its price. Investing In it is a no-brainer for professional travel photographers and big Instagram names, though. More concerning is the fact that neither the X100V nor its built-in lens has image stabilization. You'll either have to bring a tripod along or limit exposure times for best results.
Tech Specs
Dimensions: 5 x 2.9 x 2.1in.
Weight: 16.9 oz.
Type: Compact
Sensor: APS-C
Burst rate: 20fps
Battery: 420 shots
ISO range: 160 – 12,800
Max still resolution: 26.1 MP
Max video resolution: 4K, 30fps
The Pros
Outstanding picture and video quality
Clean design with lots of customization options
Helpful companion app
Quality viewfinder and LCD
The Cons
Expensive
Lacks image stabilization
2. Nikon D5600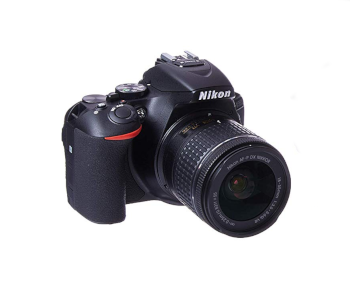 View on Amazon
Editor's Rating: 4.4/5
Do you need a camera that can snap and share high-quality selfies or any other kind of pic all day long? Nikon's D5600 is the perfect choice for thrifty photographers due to excellent battery life, an affordable price, and easy to use controls geared towards less experienced users. It's compact for a DSLR, so you won't feel tired after carrying it with you for the day.
Overview of Features
The D5600 steps into mirrorless territory as it's one of the smaller available DSLRs. It's light as well, thanks to a polycarbonate body made from one piece. The number of dials and numbers is small enough not to confuse newbies, but experienced users will find enough settings to tweak the way their photos look manually.
More expensive DSLRs use a pentaprism array for their OVFs, but the D5600's pentamirror construction is adequate. The viewfinder is bright and easy to use in sunlight. It covers only 95 percent of the frame, so take the sliver of extra space into account when setting up shots. The touchscreen LCD is even better since it's a fully-articulating model you can either flip out for selfies or turn towards the camera for more protection from scratching while you aren't using the D5600.
You connect the camera to smartphones vie Bluetooth first and then use the SnapBridge app to establish a secure Wifi link. SnapBridge can be fiddly at times, but it does a good job of turning your phone into a second viewfinder. You can turn on automatic sharing and store a 2MP version of every photo you take on the phone. You can also sign up for a free cloud service that saves 20GB worth of snaps online.
The D5600's photos are sharp and detailed since there's no low-pass filter. Its autofocus is based on contrast detection and does well in good light. We particularly liked 3D tracking, a setting that locks onto a subject and keeps them in focus even if they move away from a designated focus area within the frame. The camera's max burst speed of 5fps is good enough to capture goofy friends or your dog's fetch sessions.
Videos aren't the D5600's main focus since it's limited to 10080p at 60fps. However, the footage is as good-looking as it gets given the constraints. You can also shoot time-lapse or slow-motion videos and record the camera's footage externally through HDMI.
What's Bad About It?
The D5600's autofocus is unreliable and slow in video mode, so use manual focusing instead. SnapBridge can be slow to connect to the camera and requires you to turn Bluetooth and any other Wifi connections off after pairing to be able to use it.
Tech Specs
Dimensions: 4.9 x 3.8 x 2.8 in.
Weight: 23.6 oz. with kit lens
Type: DSLR
Sensor: APS-C
Burst rate: 5.1fps
Battery capacity: 970 shots
ISO range: 100 – 25,600
Max still resolution: 24.2 MP
Max video resolution: 1080p, 60fps
The Pros
Great value for the money
Easy to use for beginners
Continuous image transfer and ample cloud storage space
Decent picture quality
The Cons
SnapBridge requires multiple steps to connect to the camera through Wifi
Limited resolution and mediocre AF in video mode
3. Sony Alpha a6400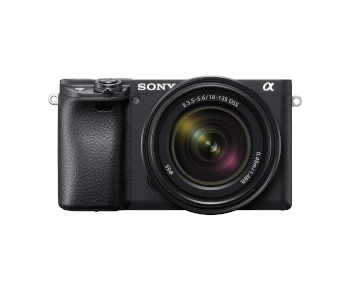 View on Amazon
Editor's Rating: 4.5/5
Sony's Alpha a6400 is an excellent choice if you're looking for a camera that0's less expensive but not less capable than our overall winner. It weighs slightly more since it's mirrorless, but the a6400 makes up for that with world-class autofocus, quality downsampled 4K video, and one of the most intuitive apps on the market.
Overview of Features
The A6400 has much in common with its predecessor, starting with its utilitarian appearance. It's comfortable to hold, and there are enough customizable buttons & dials for you to set up a personalized control scheme. You'll want to do that as soon as possible since Sony's menus are illogical and tough to navigate.
The electronic viewfinder is nothing to write home about since it has a resolution of .36 million dots and 0.7x magnification. It is bright, though. On the other hand, the a6400's LCD can shift focus points instantly or let you gradually move the AF point while looking through the EVF. Touch functionality doesn't extend to menu navigation, but you can flip the screen either forward or down 90 degrees for selfies and tricky shooting situations.
You use the Imaging Edge Mobile app for Wifi access. It is much tidier and simpler to get around than the a6400's in-camera menus. The app allows you to download photos regardless of quality easily. Better yet, it supports 4K video transfer over Wifi. You can upload media stored in your phone this way to social media and keep transferring images or videos even when the a6400 is turned off.
Accurate and reliable autofocus is the a6400's outstanding feature. It uses changes in color and light levels to put subjects into focus effectively and keep them there even if you utilize the a6400's impressive 11fps burst speed. Each photo in the sequence has individual AF, so it's unlikely you'll end up with many duds. The camera's buffer is impressive as well, letting you snap a hundred JPEGs or close to fifty RAW files before needing to empty.
Videos shot with the a6400 are downsampled to 4K, meaning they're tack-sharp and free from moiré effects. The camera has a surprisingly capable internal mic, but augmenting it with one using the provided port is a better choice nevertheless. There's no image stabilization, but this is less of a problem than on the X100V since you can pair the a6400 with an assortment of stabilized lenses.
Are There Drawbacks?
Using an external microphone with the a6400 obstructs its screen if flipped forward, so you might want to take that into account if you're set on using it as a professional vlogging camera. The RAW images this camera puts out are lossy, i.e., they take up less space but retain less information for post-processing. You can't process RAW images in-camera either.
Tech Specs
Dimensions: 4.7 x 2.6 x 2.4 in.
Weight: 18.3 oz.
Type: Mirrorless
Sensor: Micro Four Thirds
Burst: 8.6fps
Battery capacity: 410 shots
ISO range: 100 – 32,000
Max still resolution: 24.2 MP
Max video resolution: 4K, 30fps
The Pros
Outstanding autofocus
Companion app is powerful and easy to use
Records downsampled 4K
Excellent flippable touchscreen
The Cons
Creates lossy RAW images while lacking in-camera processing
External mics can obstruct the LCD when it's in the selfie position
4. Panasonic Lumix DC-LX100 II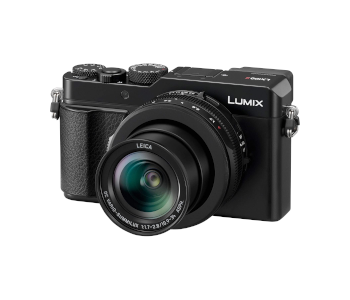 View on Amazon
Editor's Rating: 4.4/5
Most cameras we've reviewed so far have simple controls that make shooting at a moment's notice easier. Panasonic's DC-LX100 II abandons simplicity in favor of a hands-on approach that lets you fine-tune each photo to your liking. It's a speedy performer both in burst and autofocus, produces quality 4K video, and has an optically sound lens.
Overview of Features
The DC-LX100 II is a point-and-shoot camera, but it's less compact than other cameras you'd associate with the name. Don't count on fitting inside your pants pocket and reserve some space for it in a day pack instead.
There's an upside to the relative clunkiness, though – an abundance of physical controls. The lens alone has two rings, one for setting the aperture and another that drives the focus by default but can be remapped. Shutter speed and EV compensation have dedicated dials, and there are a whopping five customizable buttons that help make the DC-LX100 II truly your own.
The Panasonic Image App is one of the best-looking and most highly-regarded on review. You can hook the DC-LX100 II up to your phone via Bluetooth or Wifi and maintain the connection for care-free image transfers, just be sure to turn it off when the DC-LX100 II isn't in use as it drains the battery. The app lets you organize images into galleries, share them online, and have access to the DC-LX100 II's live view.
The DC-LX100 II has fantastic image quality for a micro four-thirds camera. It's a speedy shooter capable of snapping 11 frames per second or 6 if you turn on autofocus for each shot. Decreasing the resolution from 17 to 8.3MP engages 4K shooting mode and lets you capture 30 pics per second. Couple that with a massive buffer and great low-light performance, and you've got a capable shooter for any situation.
Video looks great, as well. The DC-LX100 II can shoot in multiple aspects without changing its angle of view. 4K footage is recorded at a bit rate of 100Mbps and rich in detail. Video autofocus is as fast as its photo equivalent and doesn't slow down in dim light.
What's Bad About It?
The DC-LX100 II is not a vlogging camera despite putting out quality videos. Its screen is fixed in place, there's no microphone input, and you can't record to external devices since HDMI is lacking. Most of the DC-LX100 II's features are state of the art, but the viewfinder isn't. It uses sequential technology to project the image in one of three primary colors rapidly. The effect becomes noticeable if you blink or quickly move your eye away and can be distracting.
Tech Specs
Dimensions: 4.5 x 2.6 x 2.5 in.
Weight: 13.8 oz.
Type: Compact
Sensor: Micro four-thirds
Burst rate: 11.3fps
Battery capacity: 300 shots
ISO range: 200 – 25,600
Max still resolution: 17 MP
Max video resolution: 4K, 30fps
The Pros
Great image and video quality
Lots of customizable physical controls
Organized and simple app
Good low-light performance and burst shooting
The Cons
Not suitable for vlogging or selfies
Has an outdated viewfinder
5. Canon EOS Rebel T7i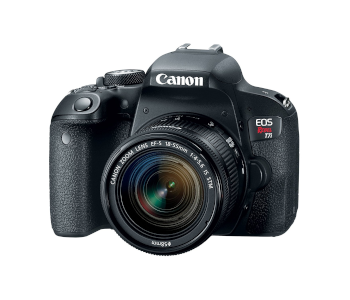 View on B&H
Editor's Rating: 4.3/5
Wifi on a camera is particularly attractive to users who are making the transition from smartphones, and there's no better camera for combining the two than the T7i. The newest in Canon's rebel series, the T7i, impresses with its accessibility and picture quality. It's easy to learn how to use properly but has a robust and effective auto mode that lets you concentrate on snapping and sharing quality pics with minimal effort.
Overview of Features
The T7i is a small and lightweight DSLR that's built to last nevertheless. Its user interface is beginner-friendly, but experienced shooters will find plenty of customization options among its dials and buttons. The physical controls are more numerous and varied than the X100V's, and they're less cramped as well.
A pentamirror viewfinder is part of what makes the T7i light. It's dimmer than a pentaprism equivalent, but the differences become negligible during real-life shooting. The camera also has a vari-angle LCD capable of flipping out to the side and forward for easier vlogging and selfies. It's home to Canon's guided mode, a simplified menu system that explains changes to settings like shutter speed and aperture with practical examples.
Canon uses the Camera Connect app for Wifi connectivity. Its simple interface and few connection issues make it one of the highest-rated companion apps on the market. Camera Connect's features are limited but solid. You get to transfer media to your phone, sync it with the T7i to embed location data, or turn your smartphone into a remote shutter.
You'll love the T7i if you're of the "fire and forget" mindset. Setting it to full auto produces images with vivid colors and balanced whites. Autofocus is on point thanks to Dual Pixel CMOS AF, canon's patented system renowned for its accuracy and speed. The camera does well in low light, delivering noise-free results at ISO values of 3,200 or lower.
What We Didn't Like
The T7i is another camera with limited video resolution, and its FullHD videos don't look as nice as the D5600's. The viewfinder covers 95 percent of the frame, forcing you to pay more attention to shot framing.
Tech Specs
Dimensions: 5.2 x 3.9 x 3 in.
Weight: 26.3 oz.
Type: DSLR
Sensor: APS-C
Burst rate: 6fps
Battery life: 600 shots
ISO range: 100 – 25,600
Max still resolution: 24.2 MP
Max video resolution: 1080p, 60fps
The Pros
Excellent choice for beginners thanks to guided mode and solid auto settings
Straightforward app with few connection issues
Excellent autofocus for photos and video alike
Vari-angle touchscreen
The Cons
Video limited to 1080p
Viewfinder is darker than most and doesn't cover the entire frame
6. Best Budget Option – GoPro HERO8 Black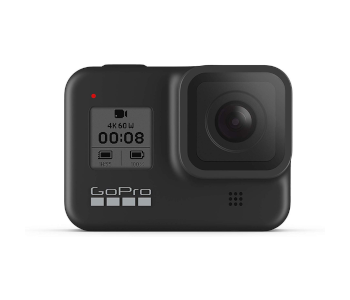 View on Amazon
Editor's Rating: 4.3/5
Action cameras let you experience adventure from a new perspective, and the GoPro HERO8 Black is the best among them. It offers a comprehensive set of connected features, has world-class digital image stabilization, and goes where you go thanks to a rugged build. The action camera philosophy emphasizes video over picture quality, but the HERO8 can take balanced and unique photos on top pf performing admirably as a video camera.
Overview of Features
Not much has changed between the 7th and 8th iteration of GoPro's flagship action cam. It's still a tough cube you can submerge in 30 feet of water or drop without damaging its internal components. The most significant physical difference is its built-in accessory mount. You had to attach older models to a harness to use GoPro's large selection of mounts, so adding the feature ensures even better portability. GoPro has also released several modules that attach to the battery door and augment the Hero8 Black with useful add-ons like hotshoe mounts and a microphone jack.
The HERO8 Black benefits from Wifi more than any other camera we've tested. Its companion app is a powerful video editor and remote control that lets you set the GoPro up in hard-to reach places or to capture your exploits from a distance. Quik is now also part of the main app. It's useful for stitching together highlights and presenting your adventures in an easily-digestible video format. Photo & video sharing to various sites is a given, and you can even live-stream video to either YouTube or Facebook.
Superb image stabilization has been a staple ever since the GoPro HERO6, and the newest model has brought it even closer to perfection. HyperSmooth 2.0 turns jittery handheld footage silky smooth and effectively replaces the need for a gimbal. It works for sharp and long movements alike, stabilizing everything from erratic hand movement to the rhythmic ups & downs you inadvertently make while walking. Turning HyperSmooth 2.0 on applies a 10-percent crop, but it's more than worth it.
There's little improvement upon the HERO7 Black's already excellent video quality. Expect punchy and detailed videos in 4K at a seamless 60fps. There are welcome changes, the most noteworthy being the implementation of HyperSmooth for slow-motion and time-lapse videos. You can also save and recall ten presets for best results in a variety of situations.
Are There Drawbacks?
The GoPro HERO8 Black works best when you're outdoors and in bright surroundings as it struggles with low light. It also gets very hot after several minutes of 4K shooting, so use it sparingly to avoid internal damage.
Tech Specs
Dimensions: 1.9 x 2.6 x 1.1 in.
Weight: 4.5 oz.
Type: Action camera
Sensor: Micro four-thirds
Burst rate: 30fps
ISO range: 100 – 6,400
Max still resolution: 12 MP
Max video resolution: 4K, 60fps
The Pros
Versatile companion app
Portable, modular, and backed by lots of useful accessories
Great video quality
Outstanding image stabilization
The Cons
Gets hot with intense use
Poor low-light performance