Microsoft Xbox One Controller Black Friday 2018 Deals
3D Insider is ad supported and earns money from clicks and other ways.
Microsoft has released a ton of deals on Xbox consoles and controllers this year. If you picked up a new console bundle you may have noticed that it only comes with a single controller. That means if you want to play some local multiplayer with your friends, you'll need to buy another one.
This Black Friday, it's the perfect time to get a spare controller for multiplayer sessions or long gaming sessions. You'll be able to save up to 30% when you get an Xbox One Wireless controller.
Xbox One Controller Features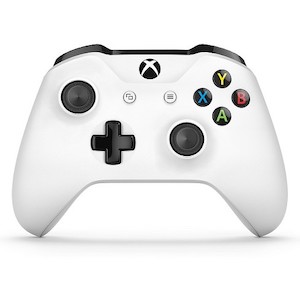 Microsoft's Xbox One Wireless Controller has seen many improvements from its previous version, the Xbox 360 Controller. The Xbox One Controller sports a much sleeker and minimalist design compared to the 360 controllers. The colors have been toned down as well compared to previous controllers.
Xbox controllers are known for the asymmetric design of their analog sticks, and this has stuck with the Xbox One controller. Even though the placement has not changed, the performance of the analog sticks has improved. It is now more ergonomic and comfortable to use especially when it comes to controlling thumb slipping.
The face and directional pad buttons have also been improved and are responsive and much more comfortable to use as you can slide your finger from button to button. The buttons are also very clicky, giving you that tactile feedback when you play games without looking at the controller.
The Xbox One controller does not have a built-in battery. It uses separate AA batteries which usually lasts about 40 hours. It is recommended that you use rechargeable batteries so your gaming does not get interrupted since you can simply change the batteries and resume your gaming.
The controller has a Micro USB port that's used for charging or connecting the controller to your console or PC. It also has a 3.5mm audio jack for your headphones so you can listen to your games in private.
The Xbox One controller has wireless capabilities so you can use it without plugging in. You can connect via Bluetooth if you want to connect to your PC or the default Xbox Wireless system that the controller uses when it connects with your console. The advantage of Xbox Wireless is that it has a higher bandwidth so you can connect four or more controllers to your console and not have any delay with your game commands.
One advantage of using the Xbox One Wireless controller is that it is compatible with Windows. You can use it seamlessly with your PC without installing anything and you can connect it to your PC via Bluetooth, USB cable, or a Xbox Wireless dongle.
The Xbox One Wireless controller is a solid and comfortable controller to use. Its buttons and triggers are very responsive and will appeal to many gamers.
You can grab an Xbox One controller this Black Friday and save up to 30%. You can either get it for yourself so you can play multiplayer games with your friends or you can get it for a family member that loves to play games with their Xbox.